This subproject investigates several important groups of Late Antique tomb inscriptions and iconographically designed grave markers in order to reconstruct the practices carried out at graves and in the associated sepulchral spaces. It focuses on inscribed tomb monuments in the Western Roman Empire that are suitable for topological-praxeological and iconological artefact analysis. This subproject understands grave contexts as an integral component of urban space: suburban necropolises such as intraurban burial sites increasingly became sites for the formation of urban identity and social negotiation processes in Late Antiquity.
The main goal is to reconstruct the practices performed at graves. Rituals that accompanied and commemorated the burial, e.g. regular visits to graves in connection with funerary banquets (convivia) and libation rites (refrigerium), are described in many Late Antique metatexts. However, archaeological and epigraphic finds from and around Late Antique graves suggest that such burial practices were significantly more complex and differed greatly depending on region. These finds include in particular inscribed grave markers such as funerary mensae ('banquet tables' and feasting installations above/on graves), piscinae (tomb covers with libation devices) and tomb covers with perforations or reliefs. The initial examination of these 'ritualized epitaphs' takes a praxeological perspective. How were such grave markers used during commemorative rites? What was consumed, emptied, burnt or donated on or over them? Analysis of the grave markers' surfaces (porousness, holes, pipes, residues in basins, libation tubes, recesses for food, facilities for burning objects, etc.) as well as grave good inventories and organic residues can provide information. Analysis of the materials found on the lateral and rear sides of the epitaphs promises valuable information on the placement, accessibility and use of the graves. These Late Antique rituals are to be made accessible for the first time in a comparative archaeological-epigraphic synthesis and comprehensive typology of grave markers for the Western Mediterranean. Linked to this is the primary question of whether these rites can be interpreted as a consequence of increasing Christianization or whether existing local ritual traditions were decisive in the development of the various practices.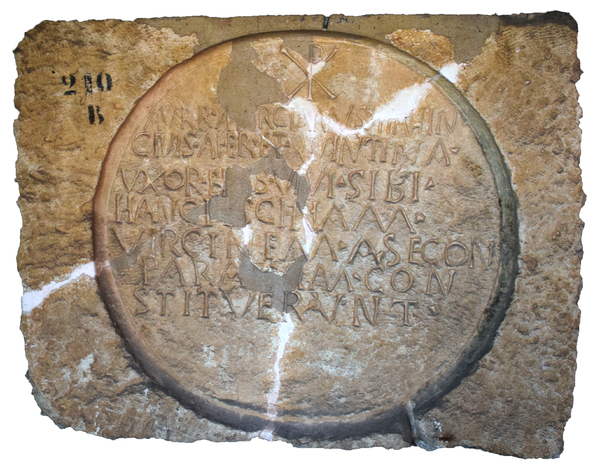 In addition to inscribed artefacts, this subproject also addresses iconographic issues in order to achieve complementary results concerning cult practice, participants and the audience for funerary images. We will analyze tombs decorated with paintings and mosaics as well as relief sarcophagi that contain references to burial rituals. Themes such as the funerary banquet (coena funebris) and various symbols associated with it were repeatedly depicted on Late Antique graves. This subproject aims to clarify whether such representations were due to regional preferences/traditions and whether they commemorated real practices or should be interpreted as general idealised conceptions of the 'Christian' idea of the afterlife.
The third range of topics concerns the spatial-architectural context in which the rites took place: well-documented groups of tomb mosaics in churches with a sepulchral function as well as complexes with ad sanctos burials and areas for collective funerary banquets in above- and underground necropolises. To what extent did tomb inscriptions, architecture and decoration influence the cult of the tomb? Which groups were allowed to bury or commemorate their dead in certain places in Late Antiquity? Ritual-liturgical practices and social-hierarchical mechanisms are to be reconstructed in some burial spaces using examples of favourable epigraphic documentation and approaches central to CRC 933, including 'presence', 'topology', 'restricted visibility' and conscious 'reading guidance' through inscriptions ('affordance').
With this combined approach, this subproject aims to make a fundamental contribution to the issue of transformations in funerary practices during the upheaval of Late Antiquity and to reassess the role of inscriptions and images in these sepulchral spaces.