Prof. Dr. Enno Giele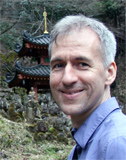 B09
Chinese Studies
ZO: Institute of Chinese Studies
Telephone: +49-6221-54-7736
E-Mail: enno.giele@zo.uni-heidelberg.de
Address
Institut für Sinologie
Akademiestraße 4-8
69117 Heidelberg
Research Interests
Institutional, social, and cultural history of Early China (esp. 5th c. BCE through 3rd c. CE)
Early Chinese manuscripts on wood, bamboo, and silk
Stone inscriptions and pictorial reliefs of the Han period (3rd c. BCE-3rd c. CE) (Center for Ancient Chinese Texts and Images, CATI)
Literacy & the public in Early China
Economy and financial politics in the Early Chinese empire
Agricultural garrisons in Northwestern China during the Han period
Employment History
2012- Professor for Classical China Studies, University of Heidelberg, (2012-2014, Direktor)
2008-11 Assistant professor for Early China Studies, University of Arizona, Tucson
2008 Visiting professor, History Department, University of California, Berkeley
2002-08 Assistant professor, Dept. of Sinology and East Asian Studies, University of Münster
2000-02 Research assistant, East Asian Seminar, Free University of Berlin
1997-99 Research assistant, Institute of History and Philology, Academia Sinica, Taibei
Degrees
2012 Habilitation (Münster): Zeugnisse der Han. Quellen zu Staat, Kultur und Gesellschaft des frühen China [Witnessing the Han: Sources on the State, Culture, and Society of Early China]
2001 Ph. D. (FU Berlin): The Duduan and Imperial Communication in Early China. Communication in Early Imperial China, Part I: The central decision-making
1995 M.A. (FU Berlin): Exterritoriale Lehensvergabe in der Hàn- und Sānguó-Zeit. Die frühe Praxis des Sakuhō taisei als Vorbedingung zur Genese einer Ostasiatischen Welt [Extraterritorial Enfeoffment during the Han- and Sanguo Periods. The Early Practice of the Sakuho taisei as Precondition to the Genesis of an East Asian World]
1991 Advanced Chinese (National Taiwan Normal University, Taibei) 1989 Advanced Japanese (Keio University, Tokyo)
Publications
Private Letter Manuscripts from Early Imperial China; Antje Richter, hg.: A History of Chinese Letters and Epistolary Culture, Leiden: Brill, 2015: 403-474.
Holz (mit Lajos Berkes, Joachim Friedrich Quack & Michael R. Ott); Thomas Meier et al., hg.: Materiale Textkulturen. Konzepte – Materialien – Praktiken, Berlin: De Gruyter, 2015: 383-395.
Naturmaterialien (mit Sarah Kiyanrad, Michael R. Ott & Antonia Sarri); Meier et al. 2015: 397-409.
Textilien (mit Susanne Enderwitz, Michael R. Ott & Rebecca Sauer); Meier et al. 2015: 421-437.
Siegeln, Stempeln und Prägen (mit Klaus Oschema & Diamantis Panagiotopoulos); Meier et al. 2015: 551-565.
Rollen, Blättern und (Ent)Falten (mit Jörg Peltzer & Melanie Trede); Meier et al. 2015: 677-693.
Chūgoku kodai no sensōshi, gunjishi ni kansuru Ō Bei de no kenkyū [Westliche Studien über die Kriegs- und Militärgeschichte des chinesischen Altertums]; Miyake Kiyoshi, üb. & hg.: Chūgoku kodai gunji seido no sōgōteki kenkyū, Kyōto daigaku jinbun kagaku kenkyūjo, 2013: 15-21.
Chūgoku kodai no sensha ni kakawaru shoshiryō to kenkyū wo megutte [Über die Quellen- und Forschungslage des Streitwagens im chinesischen Altertum]; Miyake 2013: 29-40.
Jūyán, Dūnhuáng Hànjiǎn duì fùyuán Hàndài xíngzhèng dìlǐ de jiàzhǐ [Der Wert der hanzeitlichen Handschriften bei der Rekonstruktion der hanzeitlichen Verwaltung und Geografie]; 2007 Zhōngguó jiǎnbóxué guójì lùntán lùnwénjí 2007, Taibei: National Taiwan University, 2011: 421-42.
Evidence for the Xiongnu in Chinese Wooden Documents from the Han Period; Ursula Brosseder & Brian K. Miller, hg.: Xiongnu Archaeology – Multidisciplinary Perspectives on the First Steppe Empire in Central Asia. Bonn Contributions to Asian Archaeology 5.2011: 49-75.
Memoir 50 (umfassend annotierte Übersetzung des Kapitels über die Xiongnu in Shiji 110); William H. Nienhauser, Jr., hg.: The Grand Scribe's Records. Volume IX: The Memoirs of Han China, Part II, by Ssu-ma Ch'ien, Bloomington: Indiana UP, 2011: 237-310.
Memoir 49 (umfassend annotierte Übersetzung der Biografie General Li Guang's in Shiji 109); Nienhauser 2011: 201-35.
Kodai Chūka teikokushi no shomondai—toku ni kinnen no Seiyō no chosaku ni shōten wo atete [Issues in Early Imperial Chinese Military History—With a Special Focus on Recent Western Publications] (Moriya Kazuki, üb.); Miyake Kiyoshi, hg.: Kokusai shimpojiumu "Chūgoku kodai gunji seido kenkyū no katei to tenbō" hōkokusho, Kyoto daigaku jinbun kagaku kenkyujo, 2010: 17-24.
Excavated manuscripts: context and methodology; Michael Nylan & Michael Loewe, hg.: China's Early Empires. A Re-appraisal, Cambridge UP, 2010: 114-34.
Kodai no shikiji nōryoku wo ikaga ni hantei suru no ka—Kandai gyōsei monjo on jirei kenkyū [Wie lässt sich Literalität in der Antike überprüfen? Eine Studie mit konkreten Beispielen aus der Verwaltungskorrespondenz der Han-Zeit]; Takata Tokio, hg.: Sanzennen no kanji, Kyoto: Rinsen shoten, 2009: 133-54.
Shokikan tōyō kitei no bunkengakuteki kenkyū—Chōkazan Kankan 'Shiritsu' wo mochiite [Textkritische Studie der Regeln für die Anstellung von Schreiberlingen: Die "Statuten zu Schreibern" unter den Han-zeitlichen Handschriften aus Zhangjiashan]; Miyake Kiyoshi, üb. & hg.: Chōkazan Kankan ni yoru Chūgoku Kandai seidoshi no saikentō, Kyoto: JSPS, 2008: 37-51.
Hàndài biānsài bèiyòng shūxiě cáiliào jí qí shèhuìshǐ yìyì [Reserve-Schreibmaterialien an der hanzeitlichen Grenze und ihre gesellschaftsgeschichtliche Bedeutung]; Jiǎnbó 簡帛 (Wuhan) 2.2007: 475-500.
Imperial Decision-Making and Communication in Early China. A Study of Cai Yong's Duduan; Wiesbaden: Harrassowitz, 2006:X, 367 S.
Das Wandmalereigrab im Dorf Bǎizǐ, Kreis Xúnyì, Shǎnxī; Michael Friedrich u.a. hg.: Han-Zeit. Festschrift für Hans Stumpfeldt aus Anlaß seines 65. Geburtstages, Wiesbaden: Harrassowitz, 2006: 483-516.
Staatliche Altersfürsorge im frühen China aus historiografischer Sicht; Raimund Th. Kolb & Martina Siebert hg.: Über Himmel und Erde. Festschrift für Erling von Mende, Wiesbaden: Harrassowitz, 2006:189-208.
Votum (yi) und Sondervotum (boyi) in Diskussionen am frühen chinesischen Kaiserhof; Heiner Roetz, hg.: Kritik im alten und modernen China, Wiesbaden: Harrassowitz, 2006: 63-71.
Signatures of "Scribes" in Early Imperial China; Asiatische Studien/Études Asiatiques (Bern) 59:1.2005: 353-87.
"Yū" seikō: Shin Kan jidai wo chūshin ni [Über das Postwesen der Qín- und Hàn-Zeiten] (Tomiya Itaru, üb.); Tōyōshi kenkyū (Kyoto) 63:2.2004: 1-37.
Using Early Chinese Manuscripts as Historical Source Materials; Monumenta Serica (St. Augustin) 51.2003: 409-38.
In memoriam Ōba Osamu (1927-2002); Nachrichten der Gesellschaft für Natur- und Völkerkunde Ostasiens 173-174.2003: 19-34 (englische Fassung in Early China [Berkeley] 28.2003: xi-xv).
Hàndài Zhāngyè dūwèi kǎo [Die Militärführer der Provinz Zhāngyè zur Hàn-Zeit]; Jiǎndúxué yánjiū (Lanzhou) 3.2002: 129-54.
(Editorial participation:) Und folge nun dem, was mein Herz begehrt. Festschrift für Ulrich Unger zum 70. Geburtstag; Reinhard Emmerich & Hans Stumpfeldt hg., unter Mitarbeit von Monique Nagel-Angermann, Yu Hong und Enno Giele, 2 Bde., Hamburg: Hamburger Sinologische Gesellschaft e.V., 2002: xxxvi, 627 S.
(Annot. transl. from the Japanese, et al.:) The Ordinances on Fords and Passes Excavated from Han Tomb Number 247, Zhangjiashan (by Ōba Osamu), transl. and ed. by David Spafford, Robin D.S. Yates and Enno Giele, with Michael Nylan; Asia Major, 3rd ser. (Taibei) 14:2.2001: 119-41.
Early Chinese Manuscripts: Including Addenda and Corrigenda to New Sources of Early Chinese History: An Introduction to the Reading of Inscriptions and Manuscripts; Early China (Berkeley) 23-24.1998-99: 247-337 (incl. online database with 445 entries).
(Transl. from the Japanese:) Shigaku zasshi summary of Japanese scholarship for 1996 (by Shibata Noboru and Kojima Shigetoshi); Early China (Berkeley) 23-24.1998-99: 367-99.
Yǐnwān xīn chūtǔ xíngzhèng wénshū de xìngzhí yǔ Hàndài dìfāng xíngzhèng [Der Quellenwert der neu gefundenen Verwaltungstexte von Yǐnwān und die Lokalverwaltung der Hàn-Zeit]; Dàlù zázhì (Taibei) 95:3.1997: 21-45 (/117-41) / Jiǎnbó yánjiū [Nánníng] 2001: 786-811.
(Transl. & collation of Chin., Jap., and Engl. editions:) Guó zhī zhòngbǎo – Die Staatsschätze Chinas. Meisterwerke im Nationalen Palastmuseum; interaktive CD-ROM mit Begleitheft, Taibei: Jǐngchéng yǐngxiàng, 1997: ca. 250 S.
(Transl. from the Japanese:) Shigaku zasshi summary of Japanese scholarship for 1993 (by Suzuki Atsushi and Watanabe Shin'ichirō); Early China (Berkeley) 20.1995:439-70.