Prof. Dr. Robert Folger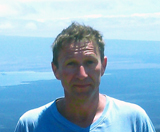 C09
Romanic philology
Department of Romance Studies
Telephone: 06221 / 54-2764
E-Mail: robert.folger@rose.uni-heidelberg.de
Curriculum Vitae
Magister Artium, Medieval History/Modern History/Spanish, University of Munich [LMU] (1993)
PhD (Dr. phil.) Medieval and Modern History, University of Rostock (1999)
PhD Spanish Literature; University of Wisconsin-Madison (2001)
Habilitation, Iberian Literatures and Cultural History, University of Munich [LMU] (2007)
2001-2007: Researcher at the SFB 573 at the LMU Munich
2007-2008 Senior Lecturer (Associate Professor) Spanish and Latin American Literatures at the University of London, Royal Holloway
2008-2013 Chair of Spanish Literature and Culture at Utrecht University (Netherlands)
Since 2013 Chair Romance Literatures at Heidelberg University
2015: Guest Professor at the Universidad Andina Simón Bolívar (Ecuador).
Research Foci
Medieval Iberian Historiography
Novela Sentimental
Spanish Picaresque Novel
Colonial Historiography
Spanish Golden Age Theater
Premodern Literature and Medicine
Latin American Prose Fiction since 1800
Literature and Subjectivity
Concepts of Humanity
Literature and Ideology
Homepage
For further information please see the Website of the Department of Romance Studies.