Paul Schweitzer-Martin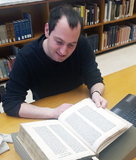 A06
Medieval History
Department of Frankish-Palatine History and Regional Studies
Telephone: 06221-54 3715
E-Mail: paul.schweitzer-martin@zegk.uni-heidelberg.de
Address
Institut für Fränkisch-Pfälzische Geschichte und Landeskunde
Grabengasse 3-5
D-69117 Heidelberg
Research project
Working title: How did medieval printers choose content and material?
This dissertation project wants to investigate incunabula printers as influential figures in the change of media and knowledge production and reception in the late middle ages.
First, this proposed change of literature production will be traced with case studies on print workshops. The case studies will be chosen such that they can help answer the question if the shift from church or monastic production to lay printers can be confirmed and what impact it had. One of the main questions is if the prospering production of incunabula is a revolutionary innovation or more of a long-term development that goes back to the 14th century. The project also wants to contribute to the question of the project A06 "The Paper Revolution in Late Medieval Europe" by comparing paper and parchment prints. Did printers comment their use of printing material? How do content and material relate to one another? In order to evaluate the importance of paper for the success of printing, supply chains have to be identified and analyzed. To answer these questions the "Gesamtkatalog der Wiegendrucke" is an important resource for broader investigations. To answer individual questions in more detail case studies will analyze print workshops and prints. Furthermore, dedications, colophons and information in the prints are to be compared. In addition, source material about the printers will put their choices into context.
The aim of the project is to provide insight on strategies and choices concerning material and content of medieval printers. In a broader sense it should show continuities and discontinuities of media production at the verge of a non-typographical to a typographical society.
Profile
Since June 2018: research associate at the CRC 933, subproject A06
2011-2018: Studies in History and Protestant Theology ("1. Staatsexamen") and Latin (no degree) at the University of Heidelberg
2012-2018: student research assistant at the CRC 933 (subproject A06, Prof. Dr. Bernd Schneidmüller/Dr. Carla Meyer-Schlenkrich), student research assistant at the Chair of Prof. Dr. Nikolas Jaspert and teaching assistant for medieval history
internship at the German Historical Institute Washington, D.C. (3 months, 2017)
sholarship Evangelisches Studienwerk Villigst (2012-2018)
Academic service at the CRC 933
Board member as representative for the Ph.D. students
Speaker of the working group "material transforamtion" (with Dr. Sylvia Brockstieger)
Research interests
Incunabula, early prints and paper
codicology
regional history
History of Knowledge
Publications
Book Reviews and Small Articles
"Hans-Peter Hasse/Jana Kocourek/Katrin Nitzschke (Hg.), Manu propria – Mit eigener Hand. 95 Autographe der Reformationszeit, Beucha 2017", in: Neues Archivs für sächsische Geschichte 91 (2020), p. 123-124.
"Daniel Gehrt (Hg.), Katalog der Handschriften aus den Nachlässen der Theologen Johann Gerhard (1582–1637) und Johann Ernst Gerhard (1621–1668), Wiesbaden 2016", in: Neues Archivs für sächsische Geschichte 91 (2020), p. 87-89.
"Thomas Thibault Döring/Thomas Fuchs (Bearb.), Die Inkunabeln und Blockdrucke der Universitätsbibliothek Leipzig, Wiesbaden 2014", in: Neues Archivs für sächsische Geschichte 91 (2020), p. 82-84.
"Daniel Bellingradt, Vernetzte Papiermärkte: Einblicke in den Amsterdamer Handel mit Papier im 18. Jahrhundert," in: Jahrbuch für Kommunikationsgeschichte 22 (2020), p. 172-173.
"Die Papstglocke des Basler Münsters" and "Ein Münzstempel mit dem Wappen Papst Felix' V.," in: Die Tochter des Papstes: Margarthe von Savoyen. Begleitbuch und Katalog zur Ausstellung des Landesarchivs Baden-Württemberg, Hauptstaatsarchiv Stuttgart, ed. by Peter Rückert/Anja Thaller/Klaus Oschema, Stuttgart 2020, p. 141-143. (Also published in Italian and French)
"Gottfried von Viterbo, Pantheon mit Federzeichnung Friedrichs I. Barbarossa," in: Die Kaiser und die Säulen ihrer Macht. Von Karl dem Grossen bis Friedrich Barbarossa, ed. by GDKE Rheinland-Pfalz und Bernd Schneidmüller, Darmstadt 2020, p. 392
(with Bernd Schneidmüller) Massenkommunikation als Motor Einer Neuen Zeit, in: Ruperto Carola Forschungsmagazin 16 (2020), p. 137-143. [Reprint in: Universitas 76, Nr. 895, 2021, p. 43-51.]
(with Carla Meyer-Schlenkrich) How does a new trade rise? The case of paper production, in: Methods in Premodern Economic History. Case studies from the Holy Roman Empire, c.1300–c.1600, ed. by Julia Bruch/Ulla Kypta/Tanja Skambraks, Basingstoke, p. 225-228.
"Stawitzke, Vivien, Reformation und Buchdruck. Erfurt als frühes Medienzentrum (1499-1547), Jena 2017," in: Neues Archivs für sächsische Geschichte 89 (2018), p. 385-386.
"Merk, Angelika: Blockbücher des 15. Jahrhunderts. Artefakte des frühen Buchdrucks", published on 10/3/2018 by HSozKult.
Conference Reports and Blog Posts
Index
Teaching at the History Department, University of Heidelberg
Graduate and undergraduate courses on medieval manuscripts and eary printed books
regional excursions to medieval towns, current exhibitions and archives