Hannah Mieger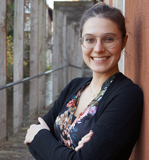 C10
Mediaeval German Philology
Department of German Studies
Telephone: (0)6221-54 3225
E-Mail: hannah.mieger@gs.uni-heidelberg.de
Areas of Research and Interest
Courtly literature
Johann Fischart's Daemonomania Magorum (First Edition 1581)
The Werewolf. Early Modern Concept and its Exemplary Reception in the First Half of the 20th Century (Final Thesis)
Imaginations of the Afterlife
Dissertation project
Moving Power. Letters as a Medium of Action in Courtly Narrative Literature.
Academic Career
02/2021 - 06/2021 Visiting Scientist at the Department of German Studies at University of Zurich, Switzerland
since 01/2020 Doctoral Candidate (Ph.D. Supervisor: Jun. Prof. Sarina Tschachtli)
since 11/2019 Research Assistant for the Subproject C10 "Letters as Material Communication in the Literature of the 12th to 17th Century"
11/2019 State Examination in German and Italian Philology
03/2015 - 09/2019 Student Research Assistant for the DFG-Project "Johann Fischarts Daemonomania Magorum. Kommentar zur Übersetzung von Bodins Dämonologie" by Prof. Dr. Tobias Bulang
09/2015 - 07/2016 Two semesters abroad at the Alma Mater Studiorum A.D. 1088, Università di Bologna, Italy
10/2013 - 11/2019 Academic Studies of German Philology, Italian Philology at the Ruprecht-Karls-University Heidelberg; additionally from 10/2016 until 05/2020 Academic Studies of Science of History
07/2013 Graduation
Publication
Bulang, Tobias u. Hannah Mieger: Von der Magie zur Verwaltung. Magiegeschichtliche Entwürfe frühneuzeitlicher Dämonologen und ihre Folgen, erscheint in: Denise Roth u. Claus Priesner (Hg.): Magie als Welterklärung in Literatur und geistesgeschichtlichem Kontext, Frankfurt am Main u.a. 2019.