| | | |
| --- | --- | --- |
| | | |
| B07 | Aspects of Mediality and Materiality in Illuminated Horizontal Scrolls in Mediaeval Japan. | |
former staff members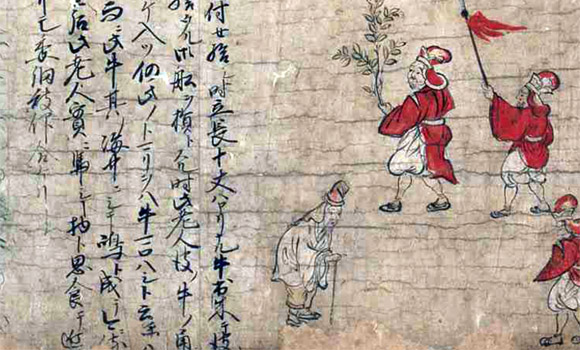 The tradition of narrative handscrolls with alternating text passages and paintings is a central area of inquiry in the calligraphic and art historical research in Japan. The format of handscrolls, which the beholder unrolls from right to left, was already imported from the mainland in the eighth century. By that time, printing technology was already invented in East Asia, unlike in most other fields represented in the Collaborative Research Centre (SFB 933). However, despite the rapid development of printing technologies, especially in China and Korea, it did not jeopardize the simultaneous production of countless handwritten manuscripts.
This is certainly due to the fact that calligraphy was esteemed as one of the highest forms of expressive art, first in China, then also in Korea and Japan. Calligraphy was thought of as tracing the spirit of the writer, which could be transmitted in the highly sophisticated carving techniques of printing in later centuries, but rarely equaled the original brush strokes. Along with the calligraphed narratives, paintings commented and interpreted the text while sometimes telling their own story within one work.
The project focused on handscrolls from the fourteenth to the seventeenth centuries with specific Buddhist contents, of which various versions are kept in regional shrines or museums. Unexplored works were at the center of attention, which were scrutinized under the analytical aspects of the Collaborative Research Centre (933); this approach was meant to contribute towards the development of basic research.
Objectives
To research the material presence of mostly unpublished handscrolls, especially those kept in remote regions and investigate all material aspects of these works.
To compile a list of handscroll versions with the rare mixed script type of Chinese characters and the so-called katakana syllabary and to present them along with their text edition including a transliteration, translation and annotation in an interactive digital format.
To scrutinize former research on handscrolls by way of the materiality approach, and to complement it if necessary.
To create an object biography as defined by the methodology of the "Cultural Biography of Things" developed by Igor Kopytoff, wherever applicable.
On a theoretical level the question of the "mediality" of the handscroll format in combination with the "materiality" of the individual works was to be examined. One approach was to research the variety of interpretations of the concepts of "mediality" and "materiality" in different disciplines.
Results
The subproject was able to revise the accepted classification of the Karmic Origins of the Great Boddhisattva Hachiman handscrolls according to art historian MIYA Tsugio. Miya categorized the medieval Hachiman handscrolls into types A and B, based on criteria of text edition and painting styles. The revised categorization on the basis of a large number of Hachiman scrolls yielded specificities in regional, respectively local terms. The scrolls thus identified showed differences not only in the use of paper, pigments, compositions and styles, but also in the choice of script type.
After researching numerous unpublished handscrolls of the Karmic Origins of the Great Bodhisattva Hachiman it became apparent that a distinct group of works originated in Ube City (Yamaguchi Prefecture) as well as in the region around Awajishima Island and Eastern Wakayama in the fifteenth century.
The combination of Chinese characters and the katakana syllabary seems to have been used deliberately within a clerical context, where the practice of reading aloud was widespread. The angularly formed katakana characters are well suited for easy legibility. The combination of these script types and a specific materiality was reflected in the paintings by a modest color palette, a limited visual vocabulary and to some extent in less well-trained scribes.
The digital edition of some of the researched handscrolls proved to be too ambitious to be executed within the subproject B07. An additional, one-year project funded by the Field of Focus 3 "Cultural Dynamics in Globalized Worlds" at Heidelberg University was applied for and granted for 2014-2015 (http://www.uni-heidelberg.de/forschung/profil/field_of_focus_3/forschung/). Results are expected to be published by July 2015.
During investigations, it turned out that object biographies could only be generated for prominent works that were produced by high-ranking patrons or famous painters and calligraphers. These scrolls were therefore appreciated by various protagonists over the centuries, who left written documents, commissioned copies of the scrolls or asked for evaluations of the scribes and painters. A conditio sine qua non for tracing the history of a handscroll is the current owner: had the scrolls been acquired by the art market, there is rarely a way to reconstruct their original place of creation. In this respect the only productive possibility so far to implement the approach of object biographies were the two sets of handscrolls of the Karmic Origins of the Empress Jingû as well as of the Karmic Origins of the Konda Hachiman Shrine, both donated to the Konda Hachiman Shrine in Habikino City by shogun Ashikaga Yoshinori in 1433.
The discussion of the different concepts of "materiality" and "mediality" is not yet concluded but will be developed in an article until the end of the first project period.
Cooperation partners
Non-university Cooperations
Cooperations within the Collaborative Research Centre (SFB 933)
A06: The Paper Revolution in Late Mediaeval Europe. Comparative Investigations into Changing Technologies and Culture in `Social Space'
C04: The Buddhist Canon in Stone. Materialisation and Presentification of Holy Scriptures in Cloud Dwelling Monastery (616–1180 A.D.)
C06: Profession and Training in Islamic Chancery Practice (adab al-kātib) or: Administration as the Ultimate Discipline
Selected Lectures
January 12, 2014
八幡縁起絵巻のローカリゼーション – Localizing the Hachiman engi
37th International Symposium「か た ち」 再 考— 開かれた語りのために—/ Reconsidering Form": Towards a More Open Discussion
National Research Institute for Cultural Properties, January 10-12, 2014
http://www.tobunken.go.jp/info/sympo13/index_e.html
November 24, 2013
Shrine Treasures as Lieux de Mémoire: The Hakozaki Hachimangû engi emaki「記憶の場」としての社宝:筥崎八幡宮縁起絵巻の考察
Workshop: Treasures, Repositories, Collections. Department of Art History, Zurich University in collaboration with Tokyo University
July 2, 2013
Die Hachiman-Querrollen von 1433: eine Objektbiographie (The Hachiman Scrolls dated to 1433: the Biography of an Object)
Art History Institute, Vienna University
May 14, 2013
Materialität und "Rahmen" in buddhistischen Manuskripten Japans (Materiality and "Frames" in Buddhist Manuscripts of Japan) paper for the lecture series Schrift-Handeln: Materialität und Medialität des Geschriebenen in Vergangenheit und Gegenwart, co-speaker: Prof. Jörg Quenzer, Hamburg University, moderated by Prof. Joachim Kurtz, Heidelberg University; organized by the Collaborative Research Centre, SFB 933, Heidelberg University
October 11, 2012
The Material Transformations of a Text and its Local and Global Travels
Panel II: Multiple Materialities: Local, National, Global, Annual Conference "Things That Connect: Pathways of Materiality and Practice", Cluster of Excellence "Asia and Europe in a Global Context," Heidelberg University
July 13, 2012
Paper or Silk? The Materiality of Medieval Illuminated Handscrolls in Japan,
and its Aesthetic, Devotional, and Political exploits
Workshop: The Matter of Manuscripts: Reflective and semantic dimensions of writing materials in manuscript cultures, Hamburg University
Events
October 2, 2013
Workshop "Japanische Kalligrafie in Geschichte und Gegenwart: Die Ästhetik der Formgebung" (Japanese Calligraphy in Past and Present: The Aesthetics of Form) with Dr. KASASHIMA Tadayuki (Idemitsu Museum / Tokyo). The renowned art historian, curator and calligrapher Dr. Kasashima taught the social dependencies and hierarchies within the history of calligraphy including the less considered calligraphies in illuminated handscrolls. Essential for his approach was his own sensational discovery of calligraphic materiality and the resulting new interpretation of the Karmic Origins of Mount Shigi dating to the twelfth century, previously regarded as the earliest handscrolls of the genre of "karmic origin stories". As a trained calligrapher, Dr. Kasashima also demonstrated the historical adaptation of Chinese characters into Japanese syllabaries. On this occasion, we produced a short video featuring Dr. Kasashima explaining the transformation of characters; English subtitles are provided: "Film über japanische Kalligrafie mit Dr. KASASHIMA Tadayuki". ( February 22, 2014)
July 17­ – 19, 2013
Workshop "Paper in the Laboratory: Material Science and Conservation of Historical Paper in an Intercultural Comparison – Papier im Labor: Materialwissenschaftliche Analyse und Restaurierungserkenntnisse im interkulturellen Vergleich", in collaboration with subprojects A06 and C06 (SFB 933). For the objectives and results of this productive collaboration including various Heidelberg collections read the following blog post.
July 17, 2013
Workshop with students and lecture by paper restorer of Japanese paintings and calligraphies Sydney Thomson (Leiden). In this workshop the renowned Japanese paper restorer Sydney Thomson shared her knowledge of restoration tools and their function using selected originals, which she presented to the audience. She analyzed paper damages on paintings and calligraphies and pointed to the significance of paper restoration for the current state of preservation of the artefacts. Sydney Thomson showed a movie on her restoration studio, which demonstrated vividly the fragility of Japanese paintings on paper and the complexity of their restoration. (website of the restoration studio: http://www.restorient.com/)
June 19, 2013
Lecture "Kannon Imagery in the Life of a Seventeenth-Century Manual" by Prof. Sherry Fowler (University of Kansas). [ poster: http://iko.uni-hd.de/md/zo/iko/events/2013/2013_0619_fowler.pdf] In her lecture the art historian und Buddhist studies scholar Sherry Fowler introduced one part of her book project inspired by the approach of long durée on the representation of Bodhisattva Avalokitesvara (jp. Kannon), a work closely connected with the subjects of subproject B07.
October 22-29, 2012
Seminar "Schriftlichkeit und Bildlichkeit in narrativen Querrollen des mittelalterlichen Japans" (Writing and Painting in illuminated narrative handscrolls from medieval Japan) with Prof. KOMINE Kazuaki (Rikkyo University / Tokyo). In four sessions well-known literary historian Prof. Komine presented various subjects from the field of Buddhist illuminated narratives in East and Southeast Asia where aspects of materiality and iconography took a central position.
October 25, 2012
Lecture "Das Leben des Buddha: Analyse von Texten und Bildern" (The Life of Buddha: Analysis of texts and images) by Prof. KOMINE Kazuaki (Rikkyo University/ Tokyo). From the literary and art historical point of view, this broad lecture with numerous illuminated manuscripts on the popular subject of The Life of Buddha from collections throughout the world, offered a variety of new perspectives for this subproject as well as for the attending students and colleagues.
July 19, 2012
Workshop "Digitale Objektfotografie und digitale Bildbearbeitung" (Digital object photography and digital image editing) to enhance the knowledge of photographing and editing within the projects of the Collaborative Research Center and for an improvement of the workflow. The workshop (suggested by Sabine Neumann) introduced various technical possibilities to work with different cameras in diverse research situations. This is an essential skill, especially in connection with the examination of materiality of the researched manuscripts.
July 10, 2012
Lecture "Reading the Tengū zōshi: Using Narrative Picture Scrolls for the Study of Medieval Japanese History" by Prof. Haruko WAKABAYASHI (Princeton University) [poster: http://iko.uni-hd.de/md/zo/iko/media/events/2012/2012_0710_wakabayashi.pdf].The medieval and religious historian Haruko Wakabayashi had just published her book on the "Tale of the Tengu" (Tengu zōshi): The Seven Tengu Scrolls: Evil and Rhetoric of Legitimacy in Medieval Japanese Buddhism (Honolulu 2012). This handscroll is closely related to the Zegaibo scroll, the first subject of project collaborator Sabine Neumann. The elaborate lecture offered numerous suggestions regarding content and methodology and resulted in a lively exchange with the audience.
Publications
Melanie Trede, "Medieval Imagery Reloaded: The 1672 Hakozaki Hachiman handscroll project" In: The Early Modern Medieval: Reconstructing Japanese Pasts, edited by Suzanne Gay, Peter Shapinsky and Hitomi Tonomura, Michigan: Harvard University Press (submitted in February 2014, expected publication in Fall 2015).
Melanie Trede, "Materialität, Mäzenatentum und Objektbiografien: Kanonisierungsaspekte in der japanischen Malerei" [Materiality, patronage and object biographies: aspects of canonization in Japanese painting] In: Kanon Kunstgeschichte. Einführung in Werke und Methoden, Bd. 2: Neuzeit, edited by Kristin Marek and Martin Schulz, Munich/Paderborn: Wilhelm Fink Verlag, 2015, 39-61.
Thomas Meier, Michael Ott and Rebecca Sauer (Ed.), Materiale Textkulturen. Konzepte – Materialien – Praktiken, MTK 1, Berlin: De Gruyter 2014. Therein:

Melanie Trede, "Papier oder Seide?" [Paper or Silk?], 407-416.
Rodney Ast, Julia Becker, Melanie Trede und Lisa Wilhelm, "Sammeln, Ordnen und Archivieren" [To collect, arrange and archive], 687-700.
Annette Hornbacher, Sabine Neumann und Laura Willer, "Schriftzeichen" [Characters], 110-117.
Sabine Neumann und Eva Noller, "Perzeption" [Perception], 377-384.
Melanie Trede, "Localizing the Hachiman engi / Hachiman engi no rōkarizêshon," (chapter in English und Japanese) In: Katachi saikō – hirakareta katari no tame ni – Reconsidering "Form": Towards a more open discussion, edited by the National Research Institute for Cultural Properties, Tokyo: National Research Institute for Cultural Properties, December 2014 (English und Japanese version), 221-252, will also be released as a commercial publication (only Japanese): Tokyo: Heibonsha, November 2014.
Carla Meyer, Sabine Neumann, Rebecca Sauer, Sandra Schultz and Melanie Trede, Workshop report for the MTK-Blog: "Paper in the Laboratory: Material Science and Conservation of Historical Paper in an Intercultural Comparison" (17.–19.7.2013). Ein Tagungsbericht, November 11, 2013, Material text culture blog, ISSN 2195-075X, .
Melanie Trede, "Film with Melanie Trede on the Circulation of Images," November 2013: http://www.asia-europe.uni-heidelberg.de/en/newsevents/films/portraits/details/m/film-melanie-trede.html
Melanie Trede, 'Konda sōbyō engi emaki' no denrai ni tsuite no ichikōsatsu [On the transmission of the Illuminated Handscrolls of the Karmic Origins of the Konda Imperial Tumulus] In: Ajia yūgaku 154, special edition: "The Iconology of Cultural Imagination: Space and Body in Japanese Religion", edited by Abe Yasurō and Itō Nobuhiro (June 2012), 38-54.
Zara Barlas, Richard Fox, Sabine Neumann and Markus Viehbeck: Report on Proceedings of the Annual Conference 2012 of the Cluster of Excellence "Asia and Europe in a Global Context": Things that Connect: Pathways of Materiality and Practice. October 10-12, 2012, Heidelberg In: H-Soz-u-Kult, February 19, 2013, http://www.asia-europe.uni-heidelberg.de/de/aktuelles/berichte/magazin-detail/m/illustrated-report-of-the-annual-conference-2012.html
Sabine Neumann, Wrathful Deities and Compassionate Bodhisattvas: Aides of the Buddhist Faith, Hanford: Clark Center for Japanese Art and Culture, Exhibition catalogue, 2012.http://www.ccjac.org/exhibitions/ex2012.html
Sabine Neumann, "24 Beispiele der Kindesliebe" [24th examples of filial love] In: TRIBUS, Annual book of Linden-Museum, 60 (September 2011), 160-173.
Melanie Trede, "Pictorial Narratives": Introduction and eight entries on narrative paintings In: Splendid Impressions. Japanese Secular Paintings 1400-1900 in the Museum of East Asian Art, Cologne, edited by Doris Croissant. Leiden: Brill/Hotei, 2011, 43-117.
Melanie Trede, "Eikyō gonen Hachiman engi emaki no 'raifu" to sono 'afutâraifu"「永享五年八幡縁起絵巻の「ライフ」とその「アフターライフ」」 [The "Life" and "Afterlives" of Hachiman Paintings dated to 1433 CE] In: The Potentialities of Works: To the Point that Japanese Literature Takes Form: 書物としての可能性―日本文学がカタチになるまで―, Proceedings of the 34th International Conference on Japanese Literature 第34回国際日本文学研究集会会議録, 人間文化研究機構, 国文学研究資料館, Tokyo: Kokubungaku kenkyū shiryōkan, 2011, 171-179.