| | | |
| --- | --- | --- |
| | | |
| B13 | The Order of Knowledge and Biographical Writing. Calculated Handwriting in Printed Books of the Early Modern Period (16th and 17th Century) | |
current staff members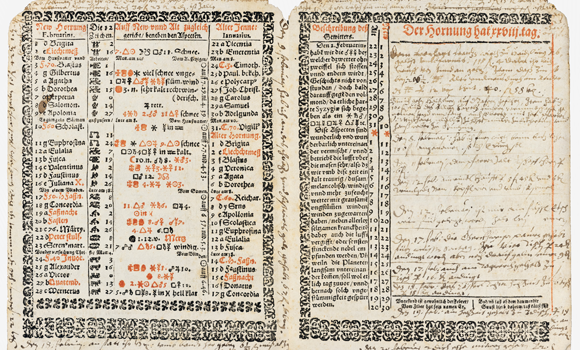 The project investigates the interaction between individual handwriting and the printed text in books of the early modern period which present an objective order of knowledge and anticipate handwritten interventions, by means of a specific layout and inserted blank pages or spaces. It examines the particular materiality created by the combination of handwriting, printed text, and images. It also considers social contexts that determine specific aspects of text production and reception.
Hence, we witness the continued centrality of handwriting in the age of print. In collaboration with A06 (Schneidmüller), B04 (Liss) und B14 (Trede), our project also theorizes the materiality of writing between the printed and the handwritten text.
The focus of B13 lies on biographic genres such as calendric diaries and those alba amicorum based on emblem books. The project explores the interaction between individual and collective sets of knowledge, their material and topological occurrence within the artifact, and subsequent practices of biographical, social (i.e. within the context of the court, the university, or the military), and literary "identity politics." Thus, it sheds light on how calendric as well as emblematic and allegorical patterns shaped modes and conditions of early modern biographical writing.
* The subproject B13 is supported by the student assistants Tamara Ludwig and Pauline Solvi.