| | | |
| --- | --- | --- |
| | | |
| C07 | Sacred and Holy Scripture. On the Materiality and Function of Competing Systems of Writing during the Formation of the Religious Field in Bali | |
current staff members
former staff members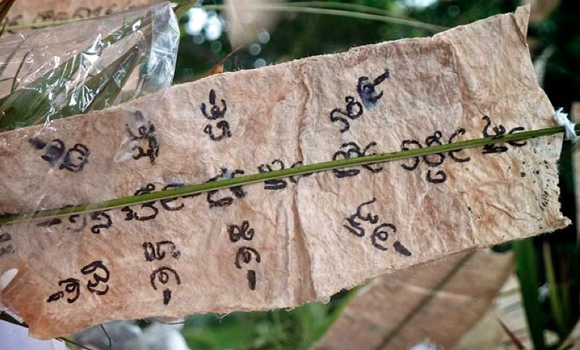 ZIELSETZUNG
Paradigmatische Herausarbeitung der Verwobenheit von materiellen Schriftträgern und rituellen bzw. kulturellen Praktiken am Beispiel Balis: v.a. Vergleich magisch wirksamer und hermeneutisch 'lesbarer' Schriften.
Erforschung der signifikanten sozialen, inhaltlichen und formalen Transformationen, die sich heute in Bali bei der Transformation des religiösen Feldes durch die Übernahme typographischer Schriftlichkeit vollziehen.
Analyse des reflexiven Umgangs mit unterschiedlichen materiellen Schriftträgern: vom Leseverbot magischer Lontartexte bis hin zur aktuellen Suche nach einer typographisch reproduzierbaren und allgemein zugänglichen 'heiligen Schrift'.
ZUSAMMENFASSUNG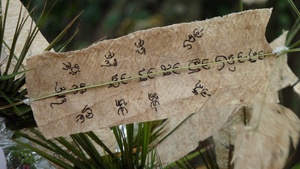 Dokumentieren und Analysieren der materiellen Träger altbalinesischer Schrift (Lontar, Stein, Stoff), ihrer ästhetischen Gestaltungsweisen und ihrer performativen Einbindung in den sozialen Raum.
Herausarbeiten der damit verbundenen sozialen Praktiken und Hierarchien sowie der reflexiven Begrenzung bzw. rituellen Steuerung des Zugangs zu magischen Texten und Schriftzeichen.
Leitend ist die Frage, welche sozialen und inhaltlichen Veränderungen und Polarisierungen mit dem Übergang von einer magisch wirksamen Schrift zu heiligen Texten einhergehen, und wie sich Modernisierungsprozesse dabei auf Schriftverständnis, -praxis und die Deutung von Religion auswirken.
FORSCHUNGSSTRATEGIE
Von zentraler Bedeutung für den geplanten SFB ist die Ergänzung des Methodenspektrums durch einen ethnographischen Forschungsansatz, der in teilnehmender Beobachtung die soziale und rituelle Einbettung schrifttragender Artefakte sowie deren reflexive Einordnung durch die Akteure einbezieht und mithin auch als methodologisches Korrektiv dienen kann.
Veranstaltungen
The Materiality and Efficacy of Aksara: Situating Balinese Scriptural Practices, An International Conference
January 30 - February 1st 2014
Institut für Ethnologie, Universität Heidelberg
The conference brought together leading experts in South and Southeast Asian literary culture to explore traditional uses of writing on the Indonesian island of Bali with a special emphasis on the power and efficacy attributed to Balinese script. Scholars have long recognized a certain gap between modern western practices of philological interpretation and those of the Javano-Balinese textual tradition. We were interested to ask what, if any, impact recognition of this gap should have on our conception of the text. Of what relevance, for example, are the uses to which Balinese script has been put in the context of ceremonial rites? Does it matter that many of the manuscripts on which we work were, and often are, thought to be 'alive' by those who have produced and made use of them? What ideas of materiality, power and agency are at work in the production and preservation of palm-leaf manuscripts, inscribed amulets and other script-bearing ritual instruments? In asking these questions we were not simply interested in attending to material – such as palm leaves, copper plates and the like – as an inert substrate for the text and its script. Rather we examined indigenous ideas of materiality with an eye to their implications for critical scholarship. It is in this latter connection that we were especially interested in comparison with uses of script and writing in India and Java, but also in mainland Southeast Asia. The proceedings of the conference are being published in a special volume by Brill (further details below).
Intensive Summer School Program in Kawi Language
Summer Program run both in 2013 & 2014
Course Overview: Old Javanese – known in Bali as Kawi, the language of poets – artfully integrated lexemes, poetic meters and figures of speech from the world of Sanskrit into an Austronesian linguistic base. It played a crucial role in the artistic, ritual and sociopolitical life of pre-modern Java and Bali and spread its influence over a large area of the Malay-Indonesian archipelago. However, Kawi is not merely of historical interest; today it is a distinct linguistic register within Balinese and Javanese that is crucial for understanding how ethical and aesthetic ideals and the dynamics of ritual practice are shaped by the textual and oral traditions of Kawi. The aim of the course is to provide the tools needed for reading works of the prose (parwa) and verse (kakawin) forms of literature as well as didactic and documentary works. Students from disciplines ranging from art history and comparative religion to linguistics and comparative literature, as well as those focusing on some aspect of Indonesian society will benefit from this course. To attend the course no prior experience is required.
PUBLIkationen
Fox, R. (2012) 'Ngelidin Sétra, Nepukin Sema? Thoughts on Language and Writing in Contemporary Bali'. Jurnal Kajian Bali. 2(2): 21–48.
Fox, R. (2013) 'Rival Styles of Writing, Rival Styles of Practical Reasoning'. Material Text Cultures Blog, 2013.03: http://www.materiale-textkulturen.de/download_werk.php?w=4000014
Fox, R. (2014) Online interview on the Material Text Cultures website. http://www.materiale-textkulturen.de/video10.php (Stand 08. November 2014)
Fox, R. (2015; in press) 'Why Do Balinese Make Offerings? On Religion, Teleology and Complexity'. Bijdragen tot de Taal-, Land- en Volkenkunde. 171(1): pages TBA.
Fox, R. (in preparation) 'The Meaning of Life… or, How to Do Things with Letters'. Chapter contribution to Hornbacher & Fox (eds.), as below.
Hornbacher, A. (2014) Machtvolle Zeichen: Schrift als Medium esoterischer Spekulation, ritueller Wirkung und religiöser Kanonisierung in Bali'. In: Joachim Quack u. Daniela Luft (Hgg.) Erscheinungsformen und Handhabungen Heiliger Schriften (Materiale Textkulturen 5), Berlin, 311–336.
Hornbacher, A. & R. Fox, eds. (forthcoming) The Materiality and Efficacy of Balinese Letters: Situating Scriptural Practice. Leiden: Brill.
Hornbacher, A. (in preparation) Chapter contribution to Hornbacher & Fox (eds.), as above.
Suamba, I.D.B. (2013) 'Balinese Lontar. Its Philosophical Background and Its Ritual Performance'. Bali Prajna. 2(1): 65–71.
Die Projektleiterin und der Mitarbeiter des Teilprojekts beteiligten sich außerdem an insgesamt drei Artikeln im Sammelband MTK 1 (siehe unten in Abschnitt 32.2): Affordanz; Präsenz; Schriftzeichen.
Lehre
Fox, R. (Winter 2012-13) Practical Matters, an MA seminar on theories of materiality.
Fox, R. (Winter 2014-15) The Uses and Consequences of Writing in Indonesia, MA seminar.
Hornbacher, A. (Sommer 2014) "Sprachbau", Schriftbild, "Geist": Wilhelm v. Humboldts Kawi Werk im Blick auf Boas und im Licht Derridas