| | | |
| --- | --- | --- |
| | | |
| A06 | The Paper Revolution in Late Mediaeval Europe. Comparative Investigations into Changing Technologies and Culture in `Social Space' | |
current staff members
former staff members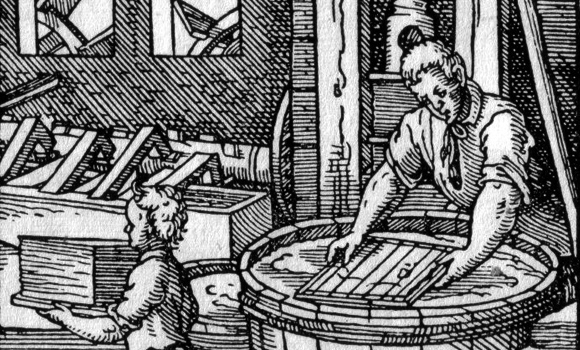 This project examines the historically important change of technology and culture in late medieval Europe by focusing on the "paper revolution". Key points are the development, proliferation and differentiation of paper-use. Currently, the subproject A06 is concentrating on medieval printer´s choice of content and material. Thereby the interplay of content and material are central. The workshops of the Drach family and the Hist brothers in Speyer function as the main case studies.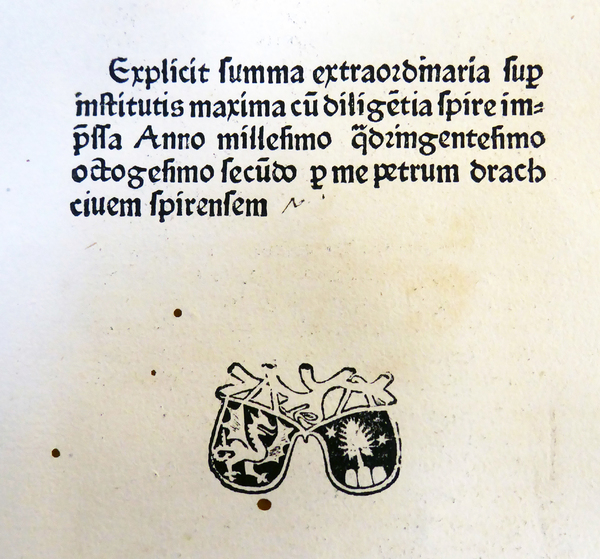 During the first two periods of funding (2011-2019), the 'field' of administrative documents was chosen, focusing on noble chanceries. However, it became more and more evident as significant desideratum, that the scribes' choice between parchment and paper – still traceable in the archives up until this day – can be interpreted only in the light of medieval perceptions of durability, aesthetics, and practical value, but above all, of social and legal connotations. Therefore, a monograph was dedicated to a history of knowledge focusing on medieval paper (second book/Habilitationsschrift PD Dr. Carla Meyer-Schlenkrich).
This larger study is flanked by two dissertations examining the preconditions and use of paper. During the first period of funding, a study on paper production from the late 14th to the early 16th century was conducted, focusing on Southwest German paper mills (dissertation Dr. Sandra Schultz). During the second period of funding the shift from manuscripts to printed books was studied in a dissertation project on the first German printers in France before 1500 (dissertation Charlotte Kempf).
The project is in close contact and cooperation with other researchers from within and beyond the CRC 933. These collaborations have resulted in several international conferences, workshops, publications and exhibitions (see below). Aim was and is to encourage the conversation between the disciplines of History, Book History, Auxiliary Sciences and Material Sciences, in order to help develop interdisciplinary approaches to answer research questions directed at the materiality of texts.
Guest researcher
Mercator-Fellow at the subprojects A06 and B13 (10/2020-12/2020): Dr. Saskia Limbach
Partners
FH Köln, CICS Cologne Institute for Conservation Sciences – Prof. Dr. Robert Fuchs
Landesarchiv Baden-Württemberg, Hauptstaatsarchiv Stuttgart ("Digitale Publikation der Wasserzeichendatei Piccard", "Bernstein – The Memory of Paper", "Wasserzeichen-Informationssystem Deutschland" (WZIS) u.a.) – Dr. Peter Rückert and Dr. Erwin Frauenknecht
Papiermuseum Basel: Schweizerisches Museum für Papier, Schrift und Druck – Martin Kluge
Universitätsbibliothek Heidelberg, Handschriftenabteilung – Dr. Maria Effinger, Dr. Karin Zimmermann, Dr. Margit Krenn
Forschungsstelle Klöster im Hochmittelalter der Heidelberger Akademie der Wissenschaften
Wallraf-Richartz-Museum & Fondation Corboud, Köln – Thomas Klinke, Diplom-Restaurator und Sachverständiger der IHK Köln für Schadensfeststellung und Restaurierung europäischer Handzeichnung, Druckgraphik und Bücher sowie die Feststellung technologischer Merkmale
Universität Hamburg, Asien-Afrika-Institut: Forschungsprojekt "History and Typology of Paper in Central Asia during the First Millennium AD: Analysis of Chinese Paper Manuscripts" – Dr. Agnieszka Helman-Wazny
Homburger Papiermanufaktur und Museum Papiermühle Homburg/Main – Johannes Follmer
Staatsbibliothek zu Berlin, Preussischer Kulturbesitz, Gesamtkatalog der Wiegendrucke - Dr. Falk Eisermann und Dr. Oliver Duntze
Events
21.2.-23.2.2022
Conference "Between Manuscript and Print. Transitions, Simultaneities and the Question of Shifting Meanings"
(program)
29.9.-1.10.2021
Workshop "Standards and Variations in Fifteenth-Century Printing" (in cooperation with Gesamtkatalog der Wiegendrucke) (program) conference report: SFB-Blog
12.11.2020
Workshop "Demarcations in Premodern Texts / Grenzen in vormodernen Texten" In cooperation with Graduiertenkolleg 2196 "Dokument - Text - Edition" (Bergische Universität Wuppertal) (program) conference report: SFB-Blog & HSozKult
7.7.2020 [cancelled]
Panel Demarcations in Medieval Texts: Paratext - Text - Book In cooperation with Graduiertenkolleg 2196: Dokument - Text - Edition (Bergische Universität Wuppertal) at the International Medieval Congress in Leeds
2.-3.12.2019
Excursion to the Basler Papiermühle – Swiss Museum for Paper, Writing and Printing, report in: SFB-Blog
3.7.2019
Panel Presence and Representation of Materiality in Epigraphic Discourse
In cooperation with the subprojects A01, A05 and C10 at the International Medieval Congress in Leeds, conference report in: SFB-Blog
25.4.-26.4.2019
Workshop / Journée "Cultures du texte, cultures du livre"
Program
16.2.–17.2.2017
Workshop ""Materialität als Herausforderung. Der spätmittelalterliche Codex der Historischen Grundwissenschaften" (Materiality as challenge. The Late-Medieval codex in the focus of auxiliary sciences), conducted by the sub-projects A06 and B10 at Historisches Seminar, Universität Heidelberg
Conference reports:
Dorothea Bach, Paul Blickle, Robert Janson, in: HSozKult (7.4.2017)
Nele Schneidereit, in: SFB 933-Blog.
15.11.2016
Guest lecture on the research project "Paper Princes: Paper in Early Modern Diplomacy and Statecraft" conducted by Dr. Megan K. Williams, University of Groningen, Netherlands
29.10.2014–1.3.2015
Exhibition on paper production and book printing "Mit schönen figuren – Buchkunst im deutschen Südwesten. Eine Ausstellung der Universitätsbibliothek Heidelberg und der Württembergischen Landesbibliothek Stuttgart" (online tour of the exhibition "Papier & Buchdruck. Neuerungen der Buchherstellung im Spätmittelalter").
14.–15.11.2013
International Conference "Paper in the Middle Ages. Production and Use / Papier im Mittelalter. Herstellung und Gebrauch" at Universitätsbibliothek Heidelberg (Program).
Conference report:
Charlotte Kempf, in: H-Soz-u-Kult (23.01.2014)
17.–19.07.2013
Workshop "Paper in the Laboratory: Material Science and Conservation of Historical Paper in an Intercultural Comparison" conducted by the sub-projects A06, B07 and C06 at Nikon Imaging Center (Bioquant Heidelberg), the Papyrologische Sammlung, UB Heidelberg and Völkerkundemuseum, Sammlung Portheim.
Conference report:
Carla Meyer, Sandra Schultz, Melanie Trede, Sabine Neumann, Rebecca Sauer, in: Material Text Culture Blog 2013.11
10.–12.10.2012
Panel: "Unvalued transculturality. The hidden pathways of paper from Orient to Occident in premodern times" auf der Annual Conference "Things that connect – pathways of materiality and practice" (Cluster of Excellence "Asia and Europe" and SFB 933).
Conference report:
Zara Barlas, in: H-Soz-u-Kult (01.09.2013)
12.–13.7.2012
Workshop "Paper Biography" in cooperation with Prof. Dr. Robert Fuchs, Cologne Institute for Conservation Sciences, FH Köln, and Thomas Klinke, Dipl.-Rest., Wallraf-Richartz-Museum Köln, at FH Köln.
Conference report:
Carla Meyer / Sandra Schultz, in: Material Text Culture Blog 2012.6
7.2.2012
Workshop "Bestimmung von Wasserzeichen" (Determination of watermarks) conducted by Dr. Pamela Kalning and Dr. Uli Steiger, UB Heidelberg.
5.12.2011
Kick-off conference: "Papyrus, Pergament, Papier – zur Materialität der Beschreibstoffe" (Papyrus, Parchment, Paper – Materiality of writing surfaces) conducted by the sub-projects A02, A03, A04, A05 and A06 at UB Heidelberg.
Conference report:
Kirsten Tobler und Natalie Maag, in: Informationsdienst der AHF, Nr. 020/12
Sandra Schultz, in: H-Soz-u-Kult (06.03.2012)
7.–8.11.2011
Workshop "Einführung in die Paläographie: Schriften des Spätmittelalters" (Introduction to paleography. Hand-writings of the Late-Medieval times) conducted by Dr. Julia Knödler, BSB München (Part of the Integrated Graduate School).
Major Medieval History Exhibitions
Prof. Dr. Bernd Schneidmüller has been involved in following major medieval history exhibitions as scientific coordinator, curator or member of the scientific advisory board since 2011:
Die Normannen, Mannheim 2021/2022
Die Kaiser und die Säulen ihrer Macht, Mainz 2020/2021
Faszination Stadt. Die Urbanisierung Europas im Mittelalter und das Magdeburger Recht, Magdeburg 2019/20
Dommuseum Ottonianum Magdeburg (Neueinrichtung des Museums), Magdeburg 2018
Richard Löwenherz. König – Ritter – Gefangener, Speyer 2017/18
Die Päpste und die Einheit der lateinischen Welt. Antike – Mittelalter – Renaissance, Mannheim 2017
Das Konstanzer Konzil. Weltereignis des Mittelalters, Konstanz 2014
Die Wittelsbacher am Rhein. Kurpfalz und Europa, Mannheim 2013/14
Otto der Große und das Römische Reich. Kaisertum von der Antike zum Mittelalter, Magdeburg 2012
Bayern und Österreich im Mittelalter, Burghausen 2012
Die Salier. Macht im Wandel, Speyer 2011
Publications
Schneidmüller, Bernd/ Schweitzer-Martin, Paul, Massenkommunikation als Motor Einer Neuen Zeit, in: Ruperto Carola Forschungsmagazin 16 (2020), p. 137-143. [Reprint in: Universitas 76, Nr. 895, 2021, p. 43-51.]
Kempf, Charlotte Katharina, Materialität und Präsenz von Inkunabeln. Die deutschen Erstdrucker im französischsprachigen Raum bis 1500 (Forum historische Forschung: Mittelalter, Bd. 1), Stuttgart 2020.
Meyer-Schlenkrich, Carla/Schweitzer-Martin, Paul, How does a new trade rise? The case of paper production, in: Methods in Premodern Economic History. Case studies from the Holy Roman Empire, c.1300–c.1600, hg. von Julia Bruch/Ulla Kypta/Tanja Skambraks, Basingstoke 2019, p. 225-228.
Schneidmüller, Bernd, Die Geschichte der Stadt als Wurzel des Rechts. Magdeburgs Strahlkraft im spätmittelalterlichen Europa, in: Kulturelle Vernetzung in Europa. Das Magdeburger Recht und seine Städte, hg. von Gabriele Köster/Christina Link/Heiner Lück, Dresden 2019, p. 28-53.
Meyer-Schlenkrich, Carla, Wann beginnt die Papierzeit? Zur Wissensgeschichte eines hoch- und spätmittelalterlichen Beschreibstoffs, Habilitationsschrift Heidelberg 2018 (eingereicht am 30.11.2018).
Schneidmüller, Bernd, Würde – Form – Anspruch. Ritualisierungen, Konstrukte und Fälschungen im 14. Jahrhundert, in: Privilegium maius. Autopsie, Kontext und Karriere der Fälschungen Rudolfs IV. von Österreich, hg. von Thomas Just et al. (Veröffentlichungen des Instituts für Österreichische Geschichtsforschung 69 = Mitteilungen des Österreichischen Staatsarchivs. Sonderbd. 15), Wien/Köln/Weimar 2018, p. 213–243.
Schneidmüller, Bernd/Wolter-von dem Knesebeck, Harald, Das Evangeliar Heinrichs des Löwen und Mathildes von England, Darmstadt 2018.
Schultz, Sandra, Papierherstellung im deutschen Südwesten. Ein neues Gewerbe im späten Mittelalter (Materiale Textkulturen 18), Berlin/Boston 2018.
Schneidmüller, Bernd et al. (Hgg.), Die Päpste. Amt und Herrschaft in Antike, Mittelalter und Renaissance (Die Päpste 1 = Publikation der Reiss-Engelhorn-Museen 74), Regensburg 2016.
Meyer, Carla, Im Schatten eines siegreichen Nachbarn? Die Württemberger und Friedrich I. von der Pfalz, in: Friedrich der Siegreiche (1425-1476). Beiträge zur Erforschung eines spätmittelalterlichen Landesfürsten, ed. by Franz Fuchs/Pirmin Spiess, Neustadt an der Weinstraße 2016, p. 141-173.
Containing:
Bernd Schneidmüller, Papier im mittelalterlichen Europa. Zur Einführung;
Sandra Schultz/Johannes Follmer, Von Brillen, Knoten und Wassertropfen. Auf der Suche nach Herstellungsspuren in historischen Papieren am Beispiel von Archivalien des Stadtarchivs Ravensburg;
Carla Meyer/Thomas Klinke, Geknickt, zerrissen, abgegriffen. Gebrauchsspuren auf historischen Papieren und ihr kulturhistorischer Aussagewert.

Reviewed:
by Frieder Schmidt, in: Paper History 19, 2015, p. 5-11, vgl. URL: http://www.paperhistory.org/Archive/iph1-2015.pdf (6.8.2015);
by Holger Berwinkel, in: Mediaevistik 29 (2016), p. 561-564;
by Christina Antenhofer, in: Tiroler Heimat 80 (2016), S. 216-218;
by Ottfried Krafft, in: Zeitschrift für deutsches Altertum 146/3 (2017), p. 388-389.
by Martin Wagendorfer, in: Deutsches Archiv für Erforschung des Mittelalters 75/1 (2019), p. 251-254.
Containing:
> Carla Meyer u.a., "Non-typographische/typographische Gesellschaften";
> Christoph Mauntel u.a., "Vernichten";
> Carla Meyer u.a., "Papier";
> Carla Meyer/Bernd Schneidmüller, "Zwischen Papier und Pergament";
> Klaus Oschema u.a., "Menschliche Haut" und
> Ders. u.a., "Prägen, Stempeln und Siegeln";
> Bernd Schneidmüller u.a., "Pergament";
> Sandra Schultz u.a., "Abschreiben und Kopieren".
> Mauntel, Christoph, Charters, pitchforks and green seals. Written documents between text and materiality in late medieval revolts, in: Kommunikation und Materialität, ed. by Rebecca Sauer (Materiale Textkulturen 8), Berlin/Boston 2014, p. 93-112.
Meyer, Carla, 'City branding' im Mittelalter? Städtische Medien der Imagepflege bis 1500, in: Stadt und Medien, ed. by Clemens Zimmermann (Städteforschung 85), Münster 2012, p. 19-48.
Schneidmüller, Bernd, Imperium und Pergament – Wege zum Heiligen Römischen Reich, in: Pracht auf Pergament. Schätze der Buchmalerei von 780 bis 1180, eds. by Claudia Fabian/Christiane Lange (Bayerische Staatsbibliothek. Ausstellungskataloge 86), München 2012, p. 25–45.
Schneidmüller, Bernd, Grenzerfahrungen und monarchische Ordnung. Europa 1200–1500, München 2011.