| | | |
| --- | --- | --- |
| | | |
| B09 | Bamboo and Wood as Writing Materials in Early China | |
current staff members
former staff members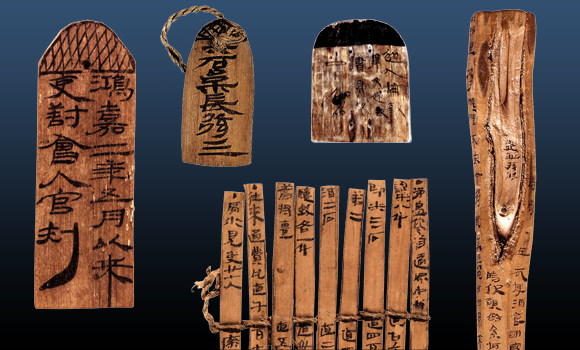 Wood and, in the South also, bamboo represent the most widespread writing materials in ancient China. Manuscripts made of wood and bamboo appear in many different formats. During the early Chinese Empire (end of 3rd c. BCE to beginning of 3rd c. CE), both materials were used for the majority of literary as well as non-literary texts as far as we know. The project is going to analyze comparable and complementary corpora of manuscripts––including the latest finds, such as those from Jianshui, Liye, and Dongpailou, as well as earlier finds, on which a larger body of research already exists, such as those from Juyan, Dunhuang, Shuihudi, or Zhangjiashan––to clarify the complex relationship between the materiality of the wood or bamboo that is written on and the content of the writing, i.e., in most cases the text (or single characters, expressions, or short phrases). Conditions of presence or absence of writing as far as it is conditioned by the materiality of the manuscripts will also be discussed.
Common Interests and Cooperations with Other Sub-Projects
A01 (=> Presence of writing in the public sphere)
A02 (=> Material conditions of private letter writing)
A06 (=> Change of media = epochal event: parchment/wood & bamboo to paper)
A07 (=> Practices of written administration and recycling of stationery)
B01 (=> Variance and function of manuscript layout) B02 (=> Scroll format)
B07 (=> Scroll format and East Asian reference)
B10 (=> Scroll format)
C06 (=> Practices of written administration)
Publications
Giele, Enno. 2019. "Von Autodafé bis Rasur – Aspekte der Zerstörung von Geschriebenem und das Beispiel China", Carina Kühne-Wespi, Klaus Oschema u. Joachim Friedrich Quack, Hrsg.: Zerstörung von Geschriebenem. Historische und transkulturelle Perspektiven (Materiale Textkulturen 22), Berlin/Boston: de Gruyter, 179-226 (https://doi.org/10.1515/9783110629040-007).
Staack, Thies. Forthcoming a. "Copying Early Chinese Law: Paratextual Frames and the Compilation Process of Written Law", Antonella Brita, Giovanni Ciotti, Florinda de Simini & Amneris Roselli, eds.: Textual and Material Craftsmanship: What Does Copying a Manuscript Mean? (= Series Minor 83), Naples: University of Naples 'L'Orientale'. [ca. 38 p.]
Staack, Thies. Forthcoming b. "Bamboo, Wood and Silk Manuscripts from Ancient China: A Few Introductory Remarks", Michael Friedrich, ed.: Kopieren, Bewahren, Neues Schaffen: Die Schriftkunst von Chen Songchang und Zhu Yongling / Hidden for Two Thousand Years Serving as Model Today: the Art of Writing of Chen Songchang and Zhu Yongling (= manuscript cultures 12), Hamburg: Centre for the Study of Manuscript Cultures. [ca. 10 p.]
Staack, Thies. 2019. "'Drafting', 'Copying', and 'Adding Notes': On the Semantic Field of 'Writing' as Reflected by Qin and Early Han Legal and Administrative Documents", Bamboo and Silk 2.2, 290-318 (https://doi.org/10.1163/24689246-00202004).
Staack, Thies. 2018a. "Single- and Multi-Piece Manuscripts in Early Imperial China: On the Background and Significance of a Terminological Distinction", Early China 41, 245-295 (http://dx.doi.org/10.1017/eac.2018.3).
Staack, Thies. 2018b. "Changsha Shangdejie Dong-Han jiandu zhuihe yi ze"《長沙尚德街東漢簡牘》綴合一則 [Reconstruction of a Document from the Slips and Tablets of the Eastern Han from Changsha Shangdejie], Website Bamboo and Silk Manuscripts of the manuscript research centre of Wuhan University, http://www.bsm.org.cn/show_article.php?id=3082. [5 p.]
Staack, Thies. 2017. "Could the Peking University Laozi 老子 really be a forgery? Some skeptical remarks", heiDOK – Heidelberg University Document Repository (Heidelberg University library), https://doi.org/10.11588/heidok.00022453. [16 p.]
Staack, Thies. 2016. "Yuelu Qin jian Nian qi nian zhiri suo fu guanli lüli yu san juan Zhiri yongyouzhe de shenfen" 嶽麓秦簡《廿七年質日》所附官吏履歷與三卷《質日》擁有者的身份 [The CV of an Official Attached to the Calendar of the 27th Year and the Identity of the Owner of the three Calendars from the Yuelu Academy Collection], Journal of Hunan University (Social Sciences) 30.4, 10-17.
Events
2015/08/06, Reading group: "The wooden strips manuscripts from Ejina", with Miyake Kiyoshi (Institute for Research in Humanities/Jinbunken, Kyoto).
2015/08/04, Guest lecture: Arnd Hafner (Tokyo University of Foreign Studies): "Ist Holz gleich Bambus? – Einige Reflexionen im Spiegel neuerer Tendenzen in der chinesischen und japanischen Forschung antiker chinesischer Holz- und Bambusleisten" [Does wood equal bamboo? Some reflections as seen from new tendencies in the Chinese and Japanese research on ancient Chinese manuscripts on wood and bamboo].
2015/08/03, Roundtable Discussion: "Literacy in Antiquity and the Medieval Ages: What Inscriptions and Manuscripts Can Tell Us", with contributions by Ulrike Ehmig (Institute of Papyrology, Heidelberg), Enno Giele (Institute of Chinese Studies, Heidelberg), Miyake Kiyoshi (Institute for Research in Humanities/Jinbunken, Kyoto), Klaus Oschema (Historical Seminar, Heidelberg), Joachim Friedrich Quack (Institute of Egyptology, Heidelberg) und Nicholas Vogt (Institute of Chinese Studies, Heidelberg).