Goals & Central Ideas
The Collaborative Research Centre 933 (CRC 933) examines script-bearing artefacts: pillars, steles, portals, tombstones, potsherds, amulets, scrolls, papyri, parchment codices; to name only a few. The researchers involved investigate a lot of questions: How and under which circumstances were these artefacts produced? In which spacial arrangements were they located? Who had access to them? How and in which contexts were they used?
Continue reading
Social Media
Follow us on our blog

Follow us on twitter


Radio features
Markus Hilgert
Beitrag im Campus Report der Universität Heidelberg
Friederike Elias, Christian Vater (TP Ö)
Wikipediaeintrag statt Hausarbeit (Deutschlandfunk, Campus und Karriere)
Friederike Elias, Christian Vater (TP Ö)
Wikipedia: GLAM (Galleries, Libraries, Archives and Museums) in der Antikensammlung der Universität Heidelberg (SWR 2, Sendung vom 14.12.2017)
Carla Meyer-Schlenkrich (TP A06)
Geschichte des Papiers (Deutschlandfunk, Aus Kultur- und Sozialwissenschaften, Sendung vom 6.9.2018)
News
New Subproject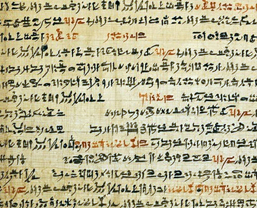 The German Research Foundation (DFG) has approved the follow-up application for a further subproject of the SFB 933 "Material Text Cultures". The topic of the new subproject B15 headed by Carina Kühne-Wespi is "Visual means of structure for Egyptian texts on papyrus". Designated academic stuff member is Sarah Braun. Information on the new project are available here.
Publications
MTK-Series' "Materiale Textkulturen"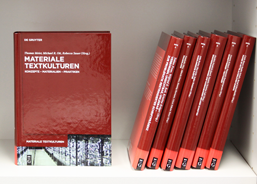 The MTK-Series Material Text Cultures is the Collaborative Research Centre's publication organ. We publish collected volumes and monographs that focus on the CRC's main research questions, meaning the materiality and presence of writing in non-typographic societies.
All volumes are open access and can be found here.Publisher: DeGruyter

Thematic Fields
The interdisciplinary work at the CRC 933 is organized in seven thematic fields. They are based on the method of praxeologically oriented analysis of artefacts, which builds upon the examination of materiality, topology, and presence as well as on the reconstruction of praxeographies. The thematic fields stretch across the three research areas: A 'Social Spaces', B 'Social Fields', and C 'Reflection (Metatexts)'. The thematic fields are designed to make times and spaces comparable with regard to identifiable areas of social practice (ritual-religious, scientific-epistemic, political-administrative), and they serve further development of the theory and methods of the CRC 933.
Arbeitsplatz Wissenschaft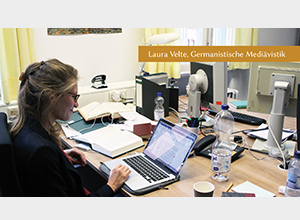 Reports
DIE WILDNIS IN UND ZWISCHEN UNS – INZEST IN DER LITERATUR DES MITTELALTERS
Sarina Tschachtli, Wissenschaftlerin am SFB "Materiale Textkulturen", setzt sich im Rahmen ihres Habilitationsprojektes mit mittelalterlichen Erzählungen über Inzest auseinander. Nun ist ein Artikel von ihr zu diesem Thema in der neuen Ausgabe des Forschungsmagazins "Ruperto Carola" der Universität Heidelberg erschienen. Mehr: https://sfb933.hypotheses.org/1875
GESTANK DER GESCHICHTE – ZU BESUCH IN DER PAPIERMÜHLE BASEL
"Geschichte erfahrbar machen durch Hand anlegen" – das ist das Motto des Museums Basler Papiermühle. Anfang Dezember hatten sich acht Teilnehmerinnen und Teilnehmer einer vom SFB organisierten Exkursion auf den Weg zur Papiermühle gemacht – nicht ahnend, dass ihre Geruchsnerven einem harten Test unterzogen werden würden. Mehr: https://sfb933.hypotheses.org/1683
VERRÄTSELUNG VON GESCHRIEBENEM – EIN WORKSHOP-BERICHT
Die Präsenz von Schrift ist zumeist mit dem Bestreben verbunden, Mitteilungen zu machen und zu kommunizieren. Es gibt aber auch Fälle, in denen dem Leser das Entschlüsseln der Botschaft bewusst erschwert wird. Bei einem zweitägigen Workshop des SFB tauschten sich Forscherinnen und Forscher aus verschiedenen Disziplinen, Zeiten und Kulturen zu dem Phänomen der "Verrätselung von Geschriebenem" aus. Mehr: https://sfb933.hypotheses.org/1631
Publications
5300 Jahre Schrift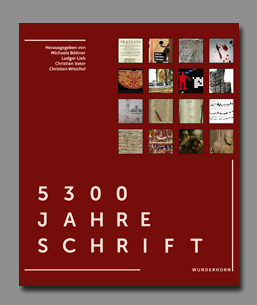 In 50 Beiträgen werden 50 Schriftträger vorgestellt, die so verschieden sind wie ihre Herkunft und ihre Schreiber und Leser.
Der im Verlag das Wunderhorn erschienene Band behandelt u.a. Mesopotamische Steuerlisten in Keilschrift, altägyptische Totenbücher, klassisch-griechische Vasenmalereien, römische Tempelinschriften und Graffiti, mittelalterliche Prachtbibeln, Reliquienkästchen und Teufelspakte, Musikvideos, Street Art und Hypertext. Die Webseite zum Buch finden Sie hier.