Goals & Central Ideas
The Collaborative Research Centre 933 (CRC 933) examines script-bearing artefacts: pillars, steles, portals, tombstones, potsherds, amulets, scrolls, papyri, parchment codices; to name only a few. The researchers involved investigate a lot of questions: How and under which circumstances were these artefacts produced? In which spacial arrangements were they located? Who had access to them? How and in which contexts were they used?
Continue reading
Social Media
Follow us on our blog

Follow us on twitter


Publications
MTK-Series' "Materiale Textkulturen"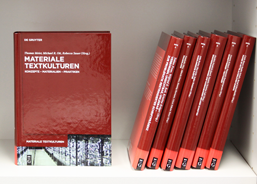 The MTK-SeriesMateriale Textkulturenis the Collaborative Research Centre's publication organ. We publish collected volumes and monographs that focus on the CRC's main research questions, meaning the materiality and presence of writing in non-typographic societies.
All volumes are open access and can be found here.Publisher: DeGruyter

Thematic Fields
The interdisciplinary work at the CRC 933 is organized in seven thematic fields. They are based on the method of praxeologically oriented analysis of artefacts, which builds upon the examination of materiality, topology, and presence as well as on the reconstruction of praxeographies. The thematic fields stretch across the three research areas: A 'Social Spaces', B 'Social Fields', and C 'Reflection (Metatexts)'. The thematic fields are designed to make times and spaces comparable with regard to identifiable areas of social practice (ritual-religious, scientific-epistemic, political-administrative), and they serve further development of the theory and methods of the CRC 933.
Arbeitsplatz Wissenschaft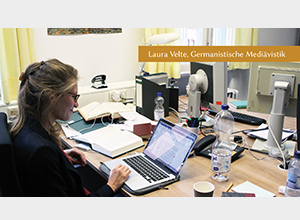 Reports
Von Eulen und Konsonanten – Besuch im Ägyptologischen Institut Heidelberg
Die Veranstaltungsreihe "Heidelberger Schriftstücke" kommt am 13. Dezember 2018 zu ihrem Ende, das sie mit einer weiteren exklusiven Führung durch eine sonst nicht geöffnete Sammlung beschließt: Prof. Joachim Friedrich Quack, Direktor des Ägyptologischen Instituts, präsentiert der kleinen Runde in unmittelbarer Nähe bedeutende Objekte des ägyptischen Schriftsystems. Sein Gang durch die Sammlung führt ein in eine für die "Heidelberger Schriftstücke" bisher unbekannte Welt der Verknüpfung von Schrift und Bild auf Artefakten in einer Sprache, von der heute niemand sicher sagen kann, wie sie gesprochen klingt. [mehr]
Wiege der Schrift – Die Uruk-Warka-Sammlung
Am 8. November 2018 zeigen Prof. Dr. Kai Lämmerhirt, Leiter der Uruk-Warka-Sammlung, und deren Kuratorin Kristina Sieckmeyer eine Auswahl der ältesten mesopotamischen Schriftstücke; es sind zugleich die ältesten Stücke, die im Rahmen der "Heidelberger Schriftstücke" präsentiert werden. Etwa ab dem Jahreswechsel zu 2020 werden sie in einer Ausstellung zu sehen sein, zu der die Teilnehmerinnen und Teilnehmer der Reihe Heidelberger Schriftstücke einen Vorgeschmack erhalten. [mehr]
Götter und Moneten - Antike Numismatik in Heidelberg
Dr. Susanne Börner, Leiterin des Heidelberger Zentrums für antike Numismatik, das rund 5.000 numismatische Objekte zu seinen Schätzen zählt, und zwei ihrer Studenten führen durch die kleine Ausstellung "Die Götterwelt der Antike", die zurzeit in der Zweigstelle der Universitätsbibliothek im Neuenheimer Feld zu sehen ist. Am Ende der Veranstaltung wird sogar eine Münze aus dem Römischen Reich durch die Hände der Teilnehmer und Teilnehmerinnen gehen. [mehr]
Publications
5300 Jahre Schrift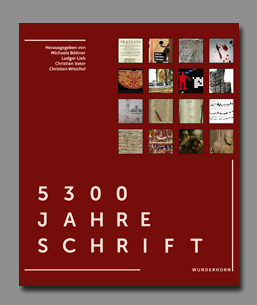 In 50 Beiträgen werden 50 Schriftträger vorgestellt, die so verschieden sind wie ihre Herkunft und ihre Schreiber und Leser.
Der im Verlag das Wunderhorn erschienene Band behandelt u.a. Mesopotamische Steuerlisten in Keilschrift, altägyptische Totenbücher, klassisch-griechische Vasenmalereien, römische Tempelinschriften und Graffiti, mittelalterliche Prachtbibeln, Reliquienkästchen und Teufelspakte, Musikvideos, Street Art und Hypertext. Die Webseite zum Buch finden Sie hier.