Goals & Central Ideas
The Collaborative Research Centre 933 (CRC 933) examines script-bearing artefacts: pillars, steles, portals, tombstones, potsherds, amulets, scrolls, papyri, parchment codices; to name only a few. The researchers involved investigate a lot of questions: How and under which circumstances were these artefacts produced? In which spacial arrangements were they located? Who had access to them? How and in which contexts were they used?
Continue reading
Social Media
Follow us on our blog

Follow us on twitter


Radio features
Markus Hilgert
Beitrag im Campus Report der Universität Heidelberg
Friederike Elias, Christian Vater (TP Ö)
Wikipediaeintrag statt Hausarbeit (Deutschlandfunk, Campus und Karriere)
Friederike Elias, Christian Vater (TP Ö)
Wikipedia: GLAM (Galleries, Libraries, Archives and Museums) in der Antikensammlung der Universität Heidelberg (SWR 2, Sendung vom 14.12.2017)
Carla Meyer-Schlenkrich (TP A06)
Geschichte des Papiers (Deutschlandfunk, Aus Kultur- und Sozialwissenschaften, Sendung vom 6.9.2018)
News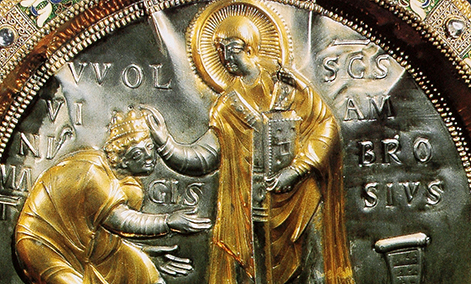 The German Research Foundation (DFG) has approved the follow-up application for a further subproject in SFB 933. This is the art historical subproject A12 "The Artist's Presence. Medieval Artefacts with Artists' Signatures", which is headed by Prof. Dr. Rebecca Müller and started work in early July. Further information can be found here.
Publications
MTK-Series' "Materiale Textkulturen"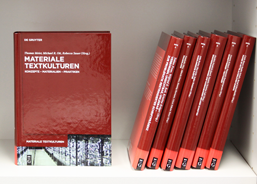 The MTK-Series Material Text Cultures is the Collaborative Research Centre's publication organ. We publish collected volumes and monographs that focus on the CRC's main research questions, meaning the materiality and presence of writing in non-typographic societies.
All volumes are open access and can be found here.Publisher: DeGruyter

Thematic Fields
The interdisciplinary work at the CRC 933 is organized in seven thematic fields. They are based on the method of praxeologically oriented analysis of artefacts, which builds upon the examination of materiality, topology, and presence as well as on the reconstruction of praxeographies. The thematic fields stretch across the three research areas: A 'Social Spaces', B 'Social Fields', and C 'Reflection (Metatexts)'. The thematic fields are designed to make times and spaces comparable with regard to identifiable areas of social practice (ritual-religious, scientific-epistemic, political-administrative), and they serve further development of the theory and methods of the CRC 933.
Arbeitsplatz Wissenschaft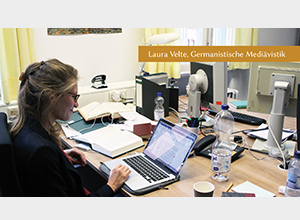 Reports
Auf der Spur der Alten Ägypter – Carina Kühne-Wespi entziffert Schriften aus der Zeit der Pharaonen
Was als kindliche Begeisterung begann, ist heute Grundstein einer erfolgreichen wissenschaftlichen Karriere. Einst tauschte Carina Kühne-Wespi mit ihrer Schulfreundin geheime Botschaften in Hieroglyphenschrift aus, heute beschäftigt sich die gebürtige Schweizerin tagtäglich mit dem Studium der kunstvollen altägyptischen Schriftzeichen. Hier ein Interview mit der neuen SFB-Teilprojektleiterin: https://sfb933.hypotheses.org/2424
Wenn Texte Blüten tragen – Oder: Die Lust am Überraschungsmoment
Der Text ist ein vielschichtiges Blätterteiggebäck; diese Metapher des französischen Philosophen und Schriftstellers Roland Barthes könnte auch von der Germanistin Beatrice Trînca stammen. Satz für Satz, Wort für Wort, Zeichen für Zeichen entblättert sie die Bedeutung mittelalterlicher Manuskripte. Hier ein Interview mit der Wissenschaftlerin, die im Wintersemester zu Gast am SFB war: https://sfb933.hypotheses.org/2045
At the Mercy of History – Winner of the SFB-Story Contest
"I made it! A small, insignificant lead tablet made its way into history. I thought I would have never come to light again!…" In December 2019, the CRC 933 announced a story contest among its scientists. Here you can read the winning story: https://sfb933.hypotheses.org/2260
Publications
5300 Jahre Schrift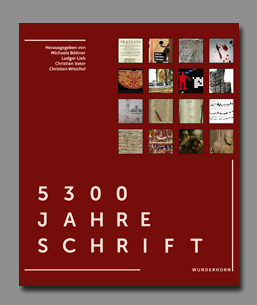 In 50 Beiträgen werden 50 Schriftträger vorgestellt, die so verschieden sind wie ihre Herkunft und ihre Schreiber und Leser.
Der im Verlag das Wunderhorn erschienene Band behandelt u.a. Mesopotamische Steuerlisten in Keilschrift, altägyptische Totenbücher, klassisch-griechische Vasenmalereien, römische Tempelinschriften und Graffiti, mittelalterliche Prachtbibeln, Reliquienkästchen und Teufelspakte, Musikvideos, Street Art und Hypertext. Die Webseite zum Buch finden Sie hier.