Goals & Central Ideas
The Collaborative Research Centre 933 (CRC 933) examines script-bearing artefacts: pillars, steles, portals, tombstones, potsherds, amulets, scrolls, papyri, parchment codices; to name only a few. The researchers involved investigate a lot of questions: How and under which circumstances were these artefacts produced? In which spacial arrangements were they located? Who had access to them? How and in which contexts were they used?
Continue reading
Social Media
Follow us on our blog

Follow us on twitter


Publications
MTK-Series' "Materiale Textkulturen"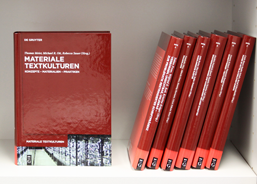 The MTK-Series Material Text Cultures is the Collaborative Research Centre's publication organ. We publish collected volumes and monographs that focus on the CRC's main research questions, meaning the materiality and presence of writing in non-typographic societies.
All volumes are open access and can be found here.Publisher: DeGruyter

Thematic Fields
The interdisciplinary work at the CRC 933 is organized in seven thematic fields. They are based on the method of praxeologically oriented analysis of artefacts, which builds upon the examination of materiality, topology, and presence as well as on the reconstruction of praxeographies. The thematic fields stretch across the three research areas: A 'Social Spaces', B 'Social Fields', and C 'Reflection (Metatexts)'. The thematic fields are designed to make times and spaces comparable with regard to identifiable areas of social practice (ritual-religious, scientific-epistemic, political-administrative), and they serve further development of the theory and methods of the CRC 933.
Arbeitsplatz Wissenschaft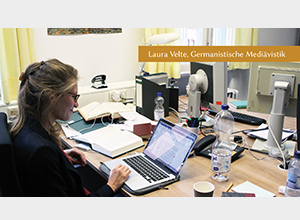 Reports
SIEGE, HOCHZEITEN, NEUE KAISER – SUSANNE BÖRNER UNTERSUCHT DAS 'MASSENMEDIUM' MÜNZE
Münzen sind Zahlungsmittel und für manchen Sammler ein wichtiges Kunstobjekt. Im Alten Rom aber war ihre Bedeutung noch eine ganz andere: Als einziges Nachrichten- und Propagandamittel, das im gesamten Reich zirkulierte, sicherten sie Herrschaftsansprüche und informierten über politische Veränderungen. Susanne Börner, Leiterin eines der neuen Teilprojekte am SFB, ist fasziniert von den geschichtsträchtigen Zahlungsmitteln. Mehr: https://sfb933.hypotheses.org/1416
FUNERARY LANDSCAPES OF THE LATE ANTIQUE OECUMENE – CONFERENCE REPORT
Although funerary contexts represent a major proportion of the entire material evidence from Late Antiquity, until today no comparative pan-Mediterranean panorama exists on this central topic of Late Antique everyday life. Therefore an international conference organized by researchers at Heidelberg University's CRC 933 united 30 specialists for Late Antique funerary habits. More: https://sfb933.hypotheses.org/1391
DER FORSCHER ALS KOMMUNIKATOR – EIN INTERVIEW MIT CHRISTIAN VATER
Der Sonderforschungsbereich "Materiale Textkulturen" untersucht Geschriebenes in non-typographischen Gesellschaften – solchen Gesellschaften also, in denen es noch keine massenhafte Vervielfältigung von Schrift gab. Wie kommt es aber, dass sich eines seiner Projekte der theoretischen und praktischen Auseinandersetzung mit den Neuen Medien verschrieben hat? Christian Vater, wissenschaftlicher Mitarbeiter am SFB, erklärt, was es hiermit auf sich hat. Mehr: https://sfb933.hypotheses.org/1370
Publications
5300 Jahre Schrift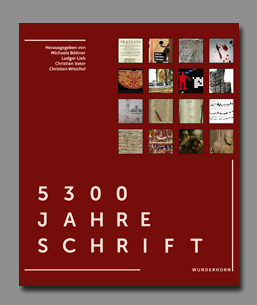 In 50 Beiträgen werden 50 Schriftträger vorgestellt, die so verschieden sind wie ihre Herkunft und ihre Schreiber und Leser.
Der im Verlag das Wunderhorn erschienene Band behandelt u.a. Mesopotamische Steuerlisten in Keilschrift, altägyptische Totenbücher, klassisch-griechische Vasenmalereien, römische Tempelinschriften und Graffiti, mittelalterliche Prachtbibeln, Reliquienkästchen und Teufelspakte, Musikvideos, Street Art und Hypertext. Die Webseite zum Buch finden Sie hier.